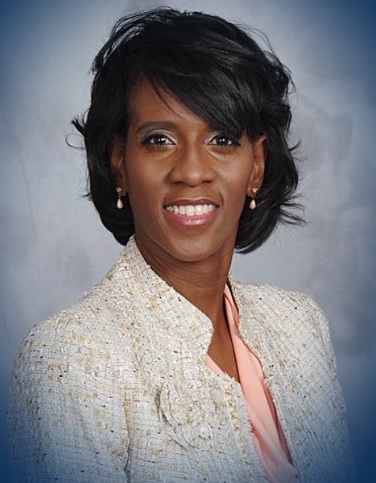 Belinda Renee Gibson
(Indianapolis District First Lady)
First Lady Belinda R. Gibson was born in Gary, Indiana to Mr. Willie Lee and Cecilia Ann Burts. She became a member of First A.M.E. Church, which she attended faithfully with her grandfather Cecil. A. Ross. She graduated with an Honors diploma from William A. Wirt High School majoring in JROTC and Marketing Management. She then attended Commonwealth Business College and received a Certificate as a Medical Assistant. She utilized that success to land her first job as an optometric technician for Robert Moses O.D. and Associates. The certificate also afforded her the opportunity to work as a phlebotomist at The Alpha Therapeutic Center. In 2010, Lady Gibson decided to further her education by attending Ivy Tech College - Anderson campus, where she graduated with an Associate's Degree in Human Services. Lady Gibson is currently enrolled in the Human Services Bachelor's of Arts degree program at Southern New Hampshire University.
In July 1997, she relocated to Indianapolis and continued her joy of optometry by working for Lenscrafters on the city's Westside. She further pursued a job with Anthem BCBS/ Administar Federal as a Medicare Part B claims processor. While there she became a member of Phillips Temple C.M.E. Church under the leadership of Rev. Oliver Dewayne Walker. In 2005, she relocated to Pendleton Indiana and became a Correctional Officer at the Pendleton Juvenile Correctional Center. While working in that profession, she also volunteered as a Court Appointed Special Advocate for Children (CASA) for Marion County.
In 2009, Lady Gibson became a member of the Wallace Temple A.M.E. Zion Church in Anderson, Indiana under the leadership of Rev. Dr. Anthony K.R. Gibson. She was honored to serve as a member of the adult choir, Y.A.M.S. (Missionary) Coordinator, Sunday School Teacher, Administrative Assistant, and Superintendent of the Buds of Promise, the District Secretary of Supply, and an eager custodian. Lady Gibson was consecrated a Deaconess in May 2013.
Lady Gibson is married to the Presiding Elder of the Inspirational Indianapolis District, the Rev. Dr. Anthony K. R. Gibson. In addition to serving as the First Lady of the District, Lady Gibson was honored to serve as the First Lady of the Saint Mark Temple A.M.E. Zion Church. Bishop Darryl B. Starnes appointed Lady Gibson as the Missionary District Superintendent of the Buds of Promise in June of 2014. In October 2018, Bishop Starnes appointed Lady Gibson as the Indianapolis District President of the Women's Home and Overseas Missionary Society. She also serves on the International Executive Board as Parliamentarian of the International Ministers Spouses & Widow(ers) Fellowship of The A.M.E. Zion Church, where she is a life member. Lady Gibson delivered her Trial Discourse at Liberation A.M.E. Zion Church on Sunday, March 11, 2019 and was subsequently licensed as an Exhorter in The A.M.E. Zion Church. Professionally, Lady Gibson is the Director of Financial Disbursements at New Leaf Trust Management in Indianapolis.
Lady Gibson and Dr. Gibson are the proud parents of Gregory, Jeremy, Jared, Gibson; the grandparents of Brayya; and Maximus (our Yorkie) Gibson.
Copyright 2015: JUST APP IT LLC. All Rights Reserved.
View Full Site